Culture Guide
CHRISTMAS
FEASTS
ACROSS
THE
GLOBE
From KFC to throwing shrimps on the barbie, let's explore some seasonal feasts.
Throughout history, the celebration surrounding midwinter has always been one of energy, joy and feasting. From the Roman's Saturnalia (honoring Saturn, the god of seeds and sewing) and the midwinter solstice feasts held by pagans, to heaving Tudor tables, intimate Victorian parties, and modern day revelries across the globe – the one thing that connects us all is food. 
On Christmas day in the USA our tables may be filled with succulent turkeys, heaping mashed potatoes, gravy, stuffing, cranberry sauce and unforgettable pumpkin pie. However, across the globe this special day has a whole new and different mix of flavors and traditions. Let's take a look at how other countries celebrate this special day.
FORTUNE AND FAVORS IN FINLAND
Given the freezing winters in Finland, the comforting warmth of Finnish rice porridge is just the ticket. Traditionally made from barley or grits, rice became more commonplace after its arrival to the country a few hundred years ago. It's mostly eaten for breakfast on Christmas Eve – rice porridge can either be boiled with milk or made in the oven (depending on where you are) – and served with cinnamon and sugar, a plum sauce, or a mix of boiled dried fruits. In some cases, a blanched almond is hidden in the pot, granting whoever gets it in their serving good fortune for the coming year. Try our: Rice Porridge.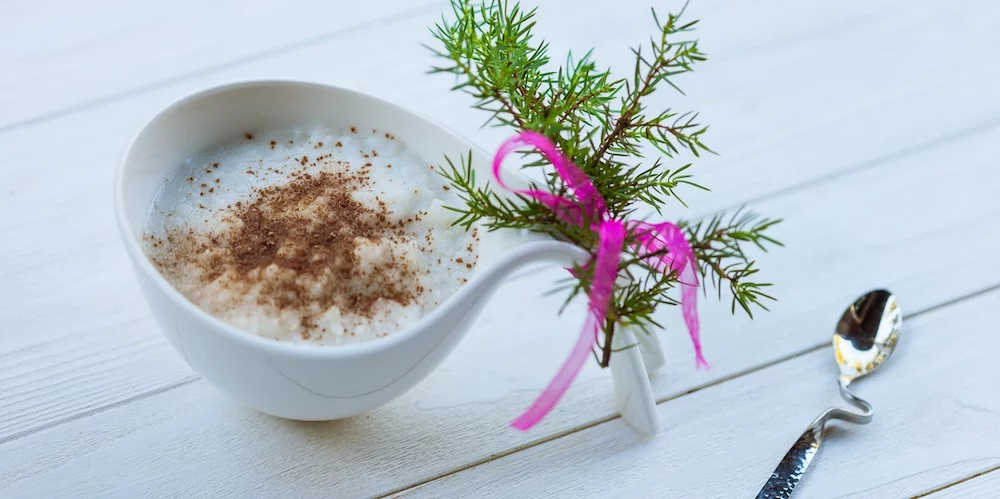 RICE IS TWICE AS NICE IN NIGERIA
Given the variety of available ingredients, spices and traditions throughout the African continent, there's no one-size-fits-all when it comes to Christmas in Nigeria, except that rice is a core ingredient for feeding friends, family and loved ones. 
As one of the most popular Nigerian meals, Jollof rice is a star at the festive table, especially as it's quick to cook, packs in tonnes of flavor, and you can make plenty enough for leftovers or for guests to take away. Likewise, fragrant fried rice is often served up with tasty side dishes, like chicken stew, fried plantains, salad and coleslaw.  

KENTUCKY FOR CHRISTMAS IN JAPAN
The history behind one of KFC's most successful marketing campaigns is a truly interesting one. While Christmas isn't a national holiday in Japan, the country still has its own festive traditions – including tucking into a bucket of KFC. In fact, the tradition is so popular, KFC starts advertising and taking preorders as early as the end of October. 
The inspiration for the most successful marketing campaign to date came to KFC store team member, Takeshi Okawara, in 1970, when he overheard foreigner customers talking about how they couldn't have turkey for Christmas, so fried chicken would have to do. This unique idea came to fruition in 1974, launching as 'Kentucky for Christmas'. Over the years, Japan's Christmas campaign has evolved, from marketing promos to exclusive menu items. Though, the most famous product is still the Party Bucket, usually featuring fried chicken, a selection of sides and even a cake.
HANGI-ING ABOUT IN NEW ZEALAND 
Unlike the jumper-clutching, breath-fogging mornings of Christmas as we know it, New Zealand's festive celebration comes in the middle of summer. Rather than having a hot lunch sitting around a table, many New Zealanders opt for a BBQ or seaside picnic, heroing local produce and sublime seafood, served with refreshing salads and flavor-punching rice sides. 
For Maori families, a traditional hangi could be the preferred way to come together to celebrate the day. Hangi is a method of underground cooking where baskets of meat and vegetables, wrapped in flax or banana leaves, are placed on top of preheated stones, covered with a wet cloth and buried in the earth for several hours.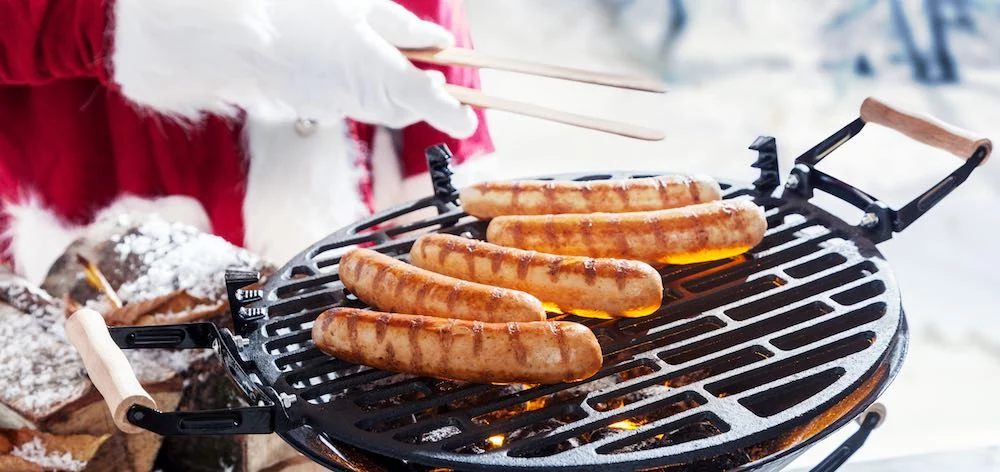 DELICIOUSLY DIVERSE DISHES IN INDIA
With such a diverse mix of traditions and culture, a Christmas menu in India is never boring. Some households may enjoy a plate of Nga Atoiba Thongba – a type of fish curry with potatoes and pears – served alongside steamed rice. For others it might be a chicken or mutton biryani. Wherever it's celebrated, tables are often laden with meats, breads, sticky and spiced rice sides, and plenty of sweets – like plum Christmas cakes and kheer rice pudding, flavored with coconut, raisins and nuts. By trying our Bombay Tawa Pulao recipe, you will feel like you are walking the streets of Mumbai this Christmas.
FAMILY, SPICE AND STYLE IN JAMAICA 
In Jamaica, Christmas is a time for family, friends and getting together with loved ones – and food is at the heart of this tradition. For most Jamaicans, Christmas morning starts with a traditional breakfast of boiled bananas, ackee, saltfish and breadfruit. Then for dinner, the real stars of the table are lovingly prepared dishes like baked ham studded with pineapple, curried goat, stewed pork and oxtail – all served with rice and seasonal gungo peas. And you can't be expected to enjoy a slice of rum-soaked black cake without a glass of sweet sorrel wine (Jamaica's version of mulled wine) on the side. 
Wherever you are, we wish you a lovely festive period and a very Happy New Year. Why not try out the New Year with our Caribbean Jerk Chicken.