How To
How
to
make
mango
sticky
rice
You've heard of rice pudding. Delicious. Creamy. Enjoyed all throughout Europe at the end of a meal (or at the start – we're not telling you what to do). If you have a sweet tooth, mango sticky rice should be next on your list to make. 
Rice is a delightfully diverse staple that lends itself to both savoury and sweet dishes – and in this case adds a little bit of tropical flare into your kitchen. Sweet. Sticky. And best served with an extra drizzle of coconut sauce. Whether you're a traveller who's tasted it in Bangkok's enviable street food markets, had it at a local Thai restaurant, or just want to try something new in the kitchen, giving it a go at home means you can adjust it to your preferred sweetness level. So, let's get started. 
What is mango sticky rice?
A traditional Southeast Asian dish, mango sticky rice is a deliciously sweet dessert made with glutinous rice, mango and coconut milk.  It only needs a handful of ingredients and is simple to cook, so it's perfect to make at home. Though you can enjoy it all year round, it's best eaten when yellow mangos are at their peak ripeness in late spring/early summer.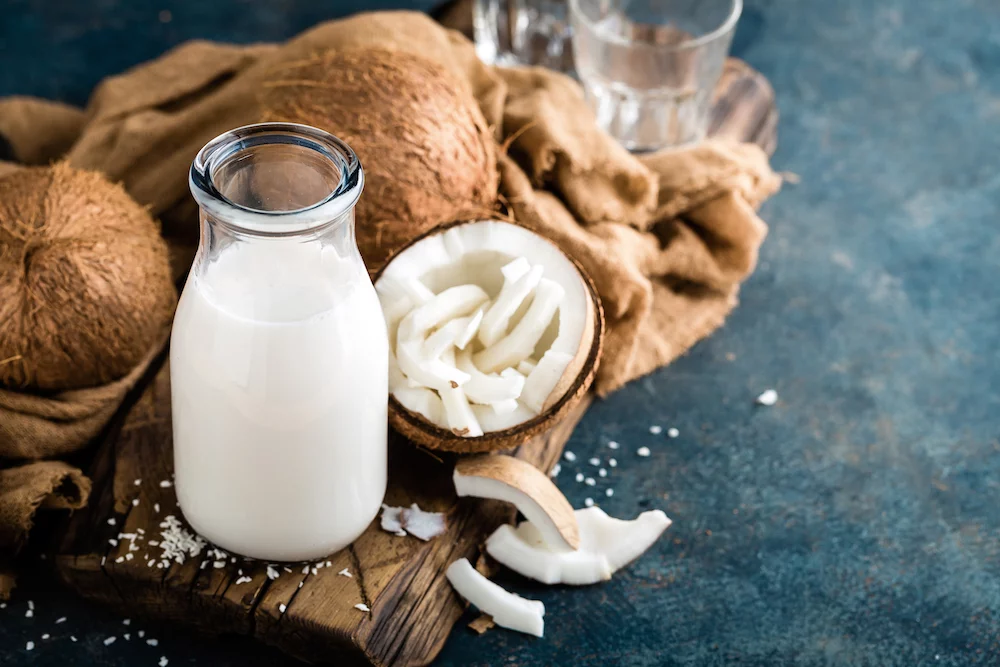 Ingredients for mango sticky rice
Sticky rice – Used in a variety of South-East Asian dishes, look for sweet, sticky or glutinous rice (these may also be a 'Thai' variety) in the shop or local Asian supermarket.
Coconut milk – For the best results, pick up the best quality, full-fat coconut milk you can.
Mango – Slice up a fresh riped yellow mango for the best results. If using frozen, be sure to thaw thoroughly before serving.
Sugar – Any granulated sugar can be used here, but brown will give you an extra depth of flavour.
Salt – As with most sweet treats, a pinch of salt helps balance things out.
---
Mango sticky rice recipe
Serves 4-5
Ingredients
185g sticky rice

350ml  water

1 can coconut milk (400ml)

50g brown sugar + 1 tablespoon

½ teaspoon salt

1 teaspoon cornstarch

1-2 large, ripe mangos (sliced or cubed)

Sesame seeds (optional)
Method
Wash the rice, changing the water between mixes until it runs clear. Cover with 350g clean water and soak your rice for 40 minutes, up to a few hours. 

If steaming, drain the water and flatten your rice in a steaming basket. Steam for 30 to 40 minutes. If boiling, transfer your water and rice into a saucepan and bring to a boil. Once boiling, reduce to a simmer and cover with a lid. Simmer for 20-30 minutes, or until the water is absorbed. 

While the rice cooks, reserve 60ml of coconut milk in a bowl and pour the rest into a small saucepan and combine with sugar and salt. Bring to just below boiling and stir until the sugar has dissolved, then remove from the heat.

Transfer your cooked rice to a bowl and stir in the coconut mixture. Cover and leave for 30 minutes for the liquid to be absorbed.

While your mixture sits, combine a splash of the remaining coconut milk to your cornstarch and mix into a slurry. Then pour the slurry, 1 tablespoon sugar, a pinch of salt, and the rest of the reserved coconut milk into a small, clean saucepan and heat gently until it thickens. Set it aside. 

Time to put your mango sticky rice together. Use a small bowl to mould a quarter of your rice mixture onto the plate and divide mango amongst the servings. Pour coconut sauce over the top of your rice, sprinkle with sesame seeds if using, and enjoy. 
---
Is sticky rice the same as short grain rice?
Though some use the term interchangeably, sticky rice and short grain are different breeds. Both hold together once cooked, but sticky rice has a higher starch content and is more specific to Northern Thailand. Here, sticky rice is commonly eaten by hand and used as a type of utensil to tuck into the rest of your meal. It's also traditionally steamed rather than boiled. 
Can you make mango sticky rice in a rice cooker?
If you don't have a steamer, and don't want to use a sieve or strainer as a workaround, you can actually make sticky rice in a rice cooker. This makes the process a bit simpler. 
To cook it in a rice cooker, you should still soak your rice for a good chunk of time – as little as 40 minutes or upwards of a few hours – to achieve the desired texture. If you prefer your sticky rice with a bit more bite, just cook the rice without soaking it first. Once your rice is cooked the way you like, transfer your cooked rice to a bowl and carry on with the recipe above from point '04' and enjoy.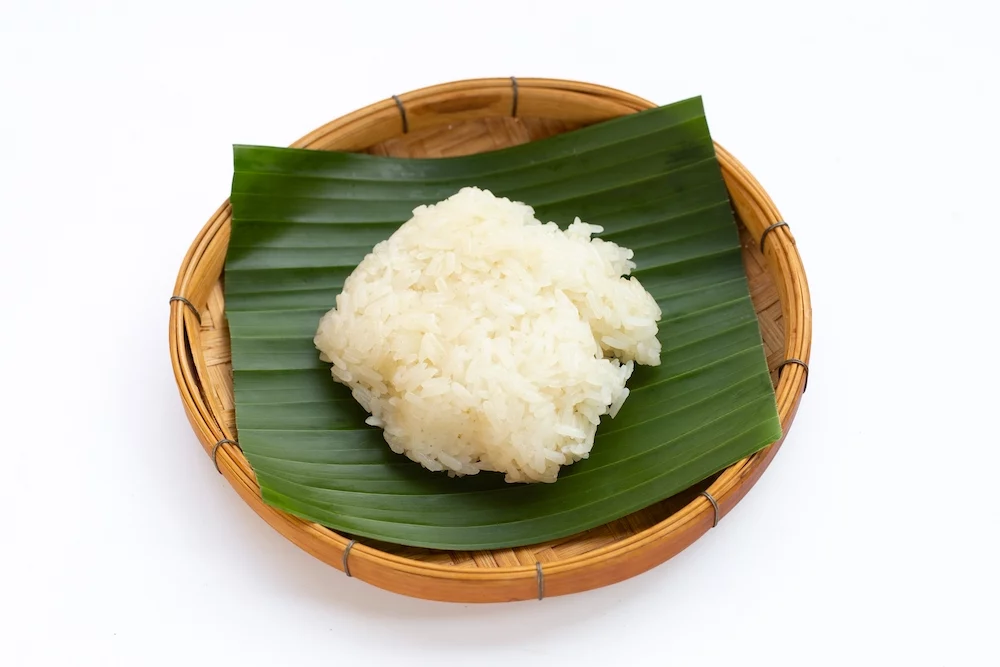 Should you serve it hot or cold?
Should you eat mango sticky rice warm or chilled? The great news is it's completely down to personal taste. If served warm (definitely not hot), you'll get a hearty, comforting pudding. If served chilled, be sure to get it in the fridge as soon as you've finished mixing together your ingredients – it makes a wonderful dessert for warmer months.
How to store mango sticky rice
Whether you made too much or cooked an extra portion for later, mango sticky rice can be enjoyed warm or cold. Sealed in an airtight container, it can last up to two days in the fridge. This is because coconut cream can spoil very quickly. If you'd prefer it warm, sprinkle a little bit of water on your rice and microwave it for 30-45 seconds until piping hot and let it cool a bit. 
---
How healthy is mango sticky rice?
Much like most desserts and sweet treats, enjoying mango sticky rice in moderation is ideal, alongside a good diet and proper exercise. As far as components go, however, the dish has a mix of natural fats, useful vitamins (such as A, C and E), and can give you a burst of energy.
How many calories? – It varies between 200-500 calories per serving, but that depends on lots of different factors, including portion size and recipe amendments. 
Is it vegan? – Yes, mango sticky rice uses coconut milk as opposed to dairy milk, so it contains no animal products.
Is it gluten-free? – Despite the name, glutinous rice is actually gluten-free. The same goes for coconut milk, mangos and sugar. So if you can't have gluten in your diet, give a little cheer for mango sticky rice.