Cooking Inspiration
WHAT
IS
A
POKE
BOWL?
Flexible, quick and delicious – here's everything you need to know about poke bowls.
Poke bowls… you've probably heard of them, right? This Hawaiian dish has grown past the island itself, landing on shores far and near, and for good reason. Though quick to put together, healthy, and fully delicious, it's the customisation possibilities that really make poke bowls a firm favourite in any restaurant or home kitchen. A feast for the eyes, as well as the eating, they're so simple to make, too.
A History of Poke
Pronounced poh-kay – so as not to be confused with the Hawaiian word for cat, popoki – poke bowls started off as seasoned offcuts from a fisherman's bounty. They are made up of cubed raw fish and rice, classically served with maui onions, seaweed, inamona (roasted, crushed candlenuts) and sea salt, among other ingredients. It swiftly grew in popularity around the 1970s, but boomed in North America in 2012. San Diego even holds a yearly 'I Love Poke' festival, celebrating Hawaiian cuisine and seeing which chef can earn the Pokeland 'Best Poke' crown.
Poke bowls as we know them today are a little bit more customisable than the traditional recipe, with dozens of combinations available for every palate, from food fanatics to mix-and-match enthusiasts.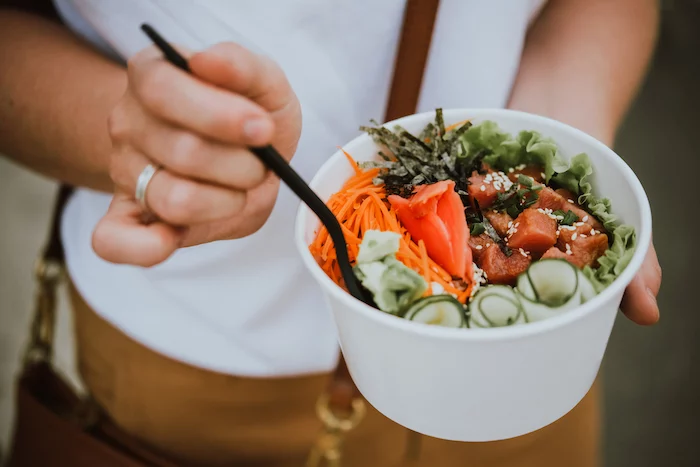 Step one: Poke Bowls Three Key Ingredients
While there's a huge number of combinations you can pull together for your poke bowl, the prep boils down to three main elements:
Protein

– Use cubed fish, like ahi tuna, yellowtail, salmon, octopus, or other protein choices, like beef, chicken or tofu. Some are more traditional than others, but it really is up to your personal preference. 

Marinade

– Your marinade depends on the protein you're using. For lighter fish keep things delicate to avoid overpowering it altogether. But fatty or oily fish can handle plenty of salt and acidity to brighten the flavour, so experiment with your favourites. 

Rice

– Another area for versatility in texture and flavour, rice makes up the foundation of your bowl. Pick from quinoa, long grain rice or sushi rice for simple building blocks, or add a little nuttiness and chew to the dish with wild or black rice.
---
Step two: Toppings
Once the first three decisions have been made, your toppings are where you can go a little bit crazy. From pickled red onions to crunchy carrots, nuts, seeds, fried shallots, roasted or crispy garlic, fresh avocado, spring onions, Jalapeños and chilli oil, it really is a playground. The idea is to create a nice balance with all of your ingredients, using elements of salty, sweet and acidic, to cut through oily, fatty protein, and to have something crunchy to liven up the texture of your bowl.
---
Step three: Sauces
Once you've figured out your toppings (thinking about texture, colour and taste as you go) you'll know what sauce to go for – whether it's light and zingy, like a lemon-balsalmic vinaigrette, or deep and spicy, like a gochujang sauce. Though poke bowls are a Hawaiian dish, you'll notice that a lot of recipes favour Japanese influences. For example, teriyaki or yuzu sauces, Japanese mayonnaise (mixed with a good squeeze of sriracha), or even a simple soy sauce mix. This blurs the line a bit between the Hawaiian poke bowl and the Japanese donburi, another type of rice bowl. 
Are Poke Bowls Healthy?
Combining carbohydrates, protein, colourful veggies, nuts (if using) and your chosen sauces and marinades, poke bowls are packed with essential nutrients without compromising serious flavour. As with all recipes, your own dietary needs, preparation preferences, portion sizes and desired ingredients all play a part in the nutritional outcome. But there's definitely wiggle room here to add a few extra flavour profiles and keep your meal healthy.
Different Types of Poke Bowls
There's no 'one size fits all' when it comes to poke bowls, and that's what makes them an excellent choice, whatever time of week. The main difference between the types of poke bowls you make will depend entirely on what you're feeling that day.
Korean flavours on your mind? Give your gut a little love with a portion of kimchi and diced salmon, served with a spicy gochujang glaze. Need a vegan option? Opt for crispy tofu marinated in ginger, garlic and soy sauce, served with pickled radish, fresh strips of cucumber and vibrant spring onions? The possibilities are endless.